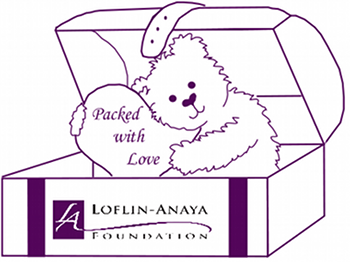 Packed with Love
In Utah (and probably other states), when children between the ages of four and 18 are placed into the foster care system, a social worker arrives at their place of residence and gives them a few minutes to gather some clothing and other personal and essential items. If the child does not have a suitecase or duffel bag, s/he is often given a garbage bag to fill with their possessions. Being handed a garbage bag for their possessions compounds an already traumatic experience.
LAF sponsors the Packed with Love project which stuffs and donates duffel bags for Utah foster care children. We provide duffel bags to service groups (families, church groups, Eagle Scout projects) to fill with a small stuffed animal, school supplies, and hygiene supplies.
Help ease the pain.
LAF provides the duffel bags, through generous donations from our partners. You and your group then provide a small toy or teddy bear, school supplies, and/or hygiene supplies for each duffel bag. Your mission is to obtain the supplies, fill the bags, and deliver them to one of the Utah foster care offices.
This is a great church group project or excellent Eagle Scout project. This is an ongoing need for the Utah foster care system. Please contact duffelbags@loflinanaya.org for further information.