Medical Services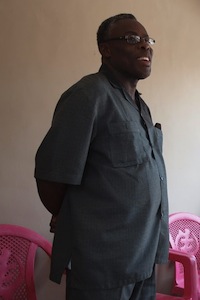 LAF funded the construction of a small medical clinic in Denkyira, Asikuma, Ghana. Dr. Erasumus Klutse (pictured at right) is the director of the nearest district hospital in Dunkwa-on-Offin and oversees the staffing and operations of the clinic. There is always need for small groups of nurses, doctors and other medical professionals to go visit Ghana and provide rural health care and education. You will be based in Dunkwa-on-Offin and work at the district hospital under the supervision of Dr. Klutse and in various rural health outposts. We can arrange trips of 2-10 people for a week to several months.
We also have a working relationship with World Joy, which works in the Abomosu area. There is housing available in Abomosu for groups to stay in while they provide service in the area. Both Brigham Young and Eastern Washington Universities' Nursing programs have sent groups to the Abomosu area. We are interested in partnering with other Nursing programs who are looking for a location where student nurses can provide much-needed educational services in rural communities.
Please contact healthcare@loflinanaya.org for further information.
To the left is a map of Ghana. If you would like to see the places in Ghana where we have provided service click on the "View Larger Map" link below the map and search for any of the following locations:
Where Dr. Klutse is located: Dunkwa-On-Ofin, Central, Ghana
Where our first clinic is located: Asikuma, Western, Ghana
Where we hope our second clinic will be located: Volta, Ghana
Where World Joy operates: Abomosu Lorry Park, Atiwa, Eastern, Ghana